Coronavirus Decontamination
The COVID-19 Coronavirus outbreak has affected just about every Wirral business and commercial premises.
As you open up again it is vital to reassure customers that it is safe to visit your business again.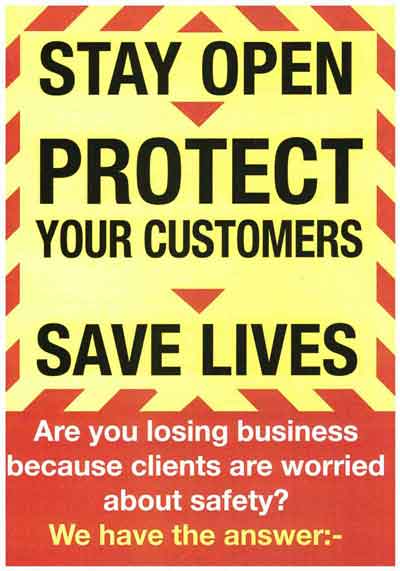 Your customers and team need to BE safe and to FEEL safe.
But how?
Introducing the CleanDirect decontamination service for commercial premises.
With 32 years experience in the cleaning business, we have the knowledge and technology to sanitise your premises using a Laboratory tested and certified viricide. We then provide you with a certificate to place in your window, website, post on social media or newspapers so your customers will have peace of mind.
We use an Ultra Low Volume Fogger, as seen in numerous TV and News programmes and used in hospitals, nursing homes, pubs, clubs, schools and nurseries.
Why Fogging?
Area reusable almost immediately
Works even when dry!
No smelly residue
Suitable for ALL wet cleanable surfaces
Non Hazardous
Biodegradable
Non-Flammable
Neutral pH
Passed European standards EN14476 (April 2020)
Note company director Alistair Goodwin BSc specialised in microbiology and subsequently worked in a hospital Laboratory as a microbiologist for 5 years and is uniquely experienced to address our COVID-19 sanitisation challenges.
Phone Alistair now to discuss your requirements:
Guidance is also available from the government:
Experience of new coronaviruses (SARS-CoV and MERS-CoV) has been used to inform this guidance. The risk of infection depends on many factors, including:
the type of surfaces contaminated
the amount of virus shed from the individual
the time the individual spent in the setting
the time since the individual was last in the setting
The infection risk from coronavirus (COVID-19) following contamination of the environment decreases over time. It is not yet clear at what point there is no risk. However, studies of other viruses in the same family suggest that, in most circumstances, the risk is likely to be reduced significantly after 72 hours.
See more: https://www.gov.uk/government/publications/covid-19-decontamination-in-non-healthcare-settings/covid-19-decontamination-in-non-healthcare-settings