So what's our Carpet Cleaning guarantee?
Well, our guarantee is actually no less than three different guarantees rolled in one.
The first and most important guarantee is if you're not absolutely satisfied with everything we've done then we will come back free of charge, as soon as possible, and re clean that area that you're not happy with. If you're still not happy with that, then we'll give you your money back for the area that you are not happy with. It's a very, very, rare and unusual thing to happen, but we would actually come back straight away as soon as you call us.
The other guarantee that we have is that if you are unfortunate enough to have a major accident or spill, within 30 days of us cleaning the item or the carpet that you've had cleaned, then we will come back free of charge and clean that problem off. For example, if you spill milk, if you spilled some soup, or if somebody has a massive coffee spill, then just give us a ring and we'll come back free of charge between that 30 days.
The third guarantee is extremely important as well, is that we guarantee there's no shrinkage or saturation. When we've cleaned your carpets or upholstery they will not re soil any quicker than you would expect a brand new item to re soil.
Your complete satisfaction is guaranteed, and here is why: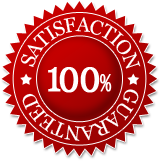 1) 86% of our new business is from referrals by other happy customers.
We don't spend much on advertising so we can pass the savings on to you. By the way if you see a company doing a lot of advertising, that means they are continuously looking for new customers, ask yourself why.
2) We want to come back in the future, and that will only happen if we do great work
3) As you would expect from a professional carpet cleaning company, we carry full insurance, both for commercial and residential premises.
4) Our technicians are highly trained and time-served, with know-how that only comes with hands-on experience. No temporary workers.
5) You get a peace of mind NO RISK Guarantee for the work done.
After the job is completed, we will double check that you are completely satisfied with the work performed. If there is any reason for concern, we will return to re-clean the area for you.
And yes, even after that if you still have any concerns, we will give you a refund for the area that concerns you.
In other words, you can relax with complete peace of mind!

P.S.  To go the extra-mile, we will also give you a stamped addressed questionnaire to send back to our head office in Birkenhead to ensure that you have been ecstatic (well, happy anyway) with the work performed.