We are Wirral's only company offering a specialist premises to clean rugs of all kinds, including Persian, Pakistani, Afghani, Chinese, Indian, Silk, antique and handmade.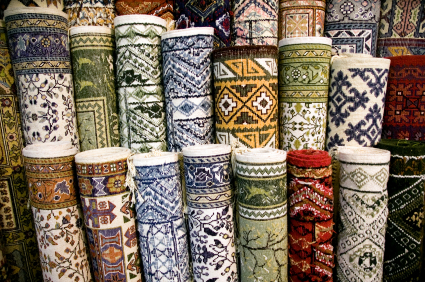 At Clean Direct Wirral each Oriental and Modern rug is treated individually with special attention, care and proper cleaning.
Before any work is started, we determine the best cleaning technique and method that suits your rug's particular weave, fibres and dyes. We ensure your satisfaction with the best results and extend the life of your rug and best protect your investment. Our technicians use cutting edge technology processes in order to deep clean and revive the colours of your rug. At Clean Direct Wirral we believe that the practice of rug cleaning should encompass the most complete service to the client. We have a dedication to the art of oriental rugs.
Rug Cleaning Questions Often Asked
Can you clean rugs in my home?
So, sometimes people phone us and they want their rugs cleaned on-site in their home. This is possible, although we prefer to take them away and clean them in our specialist rug cleaning facility. Certain rugs, though, are more suited to actually cleaning in your home. For example, very, very large Chinese rugs come to mind. If you've got a sort of 10-foot by 12-foot Chinese rug, it might be better cleaned in your home. However, I would say that the cleaning of the tassels, the cotton fringe as it's called, is usually better cleaned in our unit because we can't actually control the drying of it in your home, and to get the best results we need to dry it in our drying facility.
Can you take my rug away to clean it?
So you want your rug cleaned and can we take it away? The answer to this is yes we can. We are the only Wirral based rug cleaning specialist that has a factory cleaning system that is available to you to have your rugs cleaned off-site.
The reason why you'd like to have this done, I would suggest, is because we can then clean, we can check it, and we can make sure that that rug is as perfect as it possibly can be before we bring it back to you.
Now the process we use is not a straight forward one. We actually have a special grid which we can clean, we can vacuum the rug front and back, and what does is it vibrates over the back of the rug and the dry soiling will come out of that rug, and then we can vacuum it front and back several times.
We can then wet clean the rug, or dry clean, depending on which is most suitable for your rug. And then we put it in our special drying facility, which uses dehumidifier and very powerful fans.
And the next day, usually we look at them the next day, when they're dry, we would then take them down and inspect them again and when we're happy with them we'll bring them back to you.
If there's any further treatments needed, for example, if they've got any nasty stains that we saw on them when we first started cleaning. If they haven't come out straight away then we can use specialist stain treating systems for those, and then we can put them back on the drying rack and then inspect them again.
When they're clean and dry, then we will then phone you up and arrange for delivery at your convenience.
Steps taken to expertly clean oriental and modern rugs:
Pre-Inspect. The condition of each rug – look for fading, discoloration, stains, wear, pre-existing damage, colour instability and odours. We determine the clean ability of each rug and the appropriate cleaning procedure to be used.
Dusting. Dust and particulate matter lying deep within the rug are removed using Vibration and specially designed tools. Foot traffic and dry soil can act like sandpaper on the fibre, and this step is often referred to as "dusting" of the rug. Merely vacuuming, shaking, or beating are not nearly as effective.
Pre-Treat. Spots, spills and stains using the most advanced spotting techniques.
Pre-Clean. Traffic and heavily soiled areas.(Discoloration due to wear, fading, or permanent staining is not reversible.)
Agitate, Dissolve, Suspend and Extract the ground in soils.
Rinse. To further remove soil and cleaning residue (to restore the natural feel).
Restore. The nap with special grooming tools.
Dry. The rugs in our climate controlled drying room. Drying time is less then 24 hours.
Final Inspection. We maintain the highest standards, so our inspection process is thorough. We don't hesitate to repeat any steps that might be necessary to provide you with the cleanest rug possible. It is that final touch that means so much.