Your Carpets as Good as New
by an experienced professional cleaning team
Carpet, Rug and Upholstery Cleaning
Would you like to put the long-lost lustre back into your home? That's a big claim, but you can have your carpets and upholstery not just clean but with that like-new look and feel. In most cases even the colours can be restored as good as new.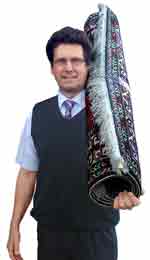 Hello, my name is Alistair Goodwin BSc. and you may be surprised to hear that I have been cleaning carpets, rugs and all types of upholstery on the Wirral for more than 30 years now. As you would expect, through many years experience I have developed a custom cleaning service that offers top class carpet, rug and upholstery cleaning. The colours will 'come alive' in your carpets, rugs, upholstery, and even curtains when treated by our high-tech equipment.
CleanDirect Wirral offers a professional, premium quality service at a surprisingly good price. We always aim to provide professional service that is above and beyond what our competitors can deliver. In fact we are so confident that you will be happy with the top notch quality of our work we offer a Satisfaction Guarantee on all our services so you can relax knowing the best work has been performed.
Why Choose Us?
We have over thirty years of experience, and our staff have been trained by the Institute of Inspection, Cleaning and Restoration Certification. We are also longstanding members of the Federation of Small Businesses (FSB).
One of the keys to a good deep down clean is the use of the latest Fast Dry Deep Cleaning System to remove as many stains and soil as possible. Rather than use potentially dangerous chemicals, we use top quality Eco friendly cleaning solutions which not only clean better than regular chemical cleaning, but also are also safer for you, your family, your pets and your home. The carpet and upholstery systems we use are highly recommended by many of the leading manufacturers and industry experts.
Our highly trained and experienced technicians are familiar with both wet and dry extraction methods on carpets, rugs, upholstery and curtains. The knowledge and techniques we have gained through years of experience will give you the peace of mind that you would want when you decide who should clean your carpets, upholstery and curtains. Remember that regular cleaning of high usage areas will not only enhance the look and feel of your fabrics, it will also extend their life.
In most cases the best way to completely clean your carpets is with the use of the Vortex High Air Flow system (van mounted extraction cleaning). However on older or delicate fabrics and curtains, we may instead recommend an alternative cleaning method, or other technique. That is why a professional evaluation before starting work is so important.
Once we have completed the work to your satisfaction, you can take some actions to help further care for your carpet. Periodic carpet care, and swift action on carpet stains are needed. A good quality vacuum cleaner together with regular carpet cleaning are the best way to extend the life of any carpet.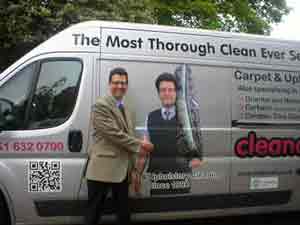 Your carpet cleaning is fully insured so you won't have to worry about liability. We at CleanDirect Wirral also guarantee our work.
If you are not completely satisfied for any reason after completing the job, we will return to re-clean the area for you. If in the unlikely event you still are not happy we will give you a refund for that area concerned. Peace of mind!
In fact even if you have a little accident during the guarantee period such as a spillage on your carpet we will come back and take out the mark, free of charge. In fact we guarantee your carpet cleaning for 30 days.
We invite you to try our services and become one of our many satisfied customers.
Commercial Cleaning
As well as home cleaning, we also offer professional commercial carpet cleaning of dirty carpets, upholstery and curtains, and of which can affect your company's public image in a negative way. We understand the connection between your image and people's perception of your business. Clean Direct's commercial carpet cleaning and other professional cleaning services ensure your company's image is a positive and professional one. We provide quality, reliable commercial carpet, upholstery and curtain cleaning services to businesses around the Wirral. This helps you create a positive company image, which is just what you want from a commercial cleaning service.
Upholstery Cleaning
Not just carpeting, we also specialize in restoring the beauty, looks and original freshness of all types of upholstered furniture. A high quality deep clean and fabric restore can extend the life of your upholstery both economically and effectively. In addition to appearance, contaminants such as pollen, household dust and dust mites are also removed by the process.
Our Wirral based upholstery cleaning processes is gentle and thorough and uses specialist upholstery cleaning solutions. Most furniture is dry in four to six hours due to the unique upholstery cleaning equipment we use.
Free Assessment and Quotation
We carefully review each individual piece of furniture to determine the best possible treatment. Such characteristics as colour fastness, fabric stability and age are taken into account at this personal assessment stage of your cleaning requirements. The preferred procedure is then recommended to you, with no obligation.
Rug Cleaning
We are Wirral's only company having a dedicated location with specialised equipment to clean rugs of all kinds, including Persians, antique and handmade.
At CleanDirect each Oriental and Modern rug is treated individually with special attention, care and proper cleaning.
Before we even pick up a cleaning tool, we need to decide on the best cleaning method to suit the particular weave, fibres and dyes of your rug. We guarantee you will be satisfied with the results, which will also extend the life of your rug and enhance your investment. Our technicians use the latest cutting edge technology in order to both clean deeply and also revive the colours of your rug. You could say we have a dedication to the art of oriental rugs.
For Wirral Carpet Cleaning Call 0151 638 1062
Serving all areas of the Wirral including Bebington, Bromborough,
Heswall
, Spital,
West Kirby
, Caldy, Hoylake, Moreton, Geeasby, Upton, Meols,
Neston
, Willaston, Prentom, Wallasey, New Brighton and Gayton
We Support the RNLI
Our favourite charity!