Thinking of sprucing up your home or business? Read on, we've been helping people like you in Neston, Little Neston, and Parkgate clean their carpets for the last thirty years.
Carpets add comfort, warmth and soundproofing to your house, making it feel homelier; however, when your carpet starts to look tired and worn, so does your home.
A dashing rug can give a room or corridor a certain splendour; but when that rug becomes faded or soiled it starts to detract from the look of the room: what once could have been the centre piece in a room of the Tsar's Winter Palace, now looks as if it was found heavily discounted in a Victorian flea-market.
All of the above holds for your upholstery as well, but note that you sit on your couches and chairs—of the furnishings in your room, these must be the last you would permit to be dirty.
You have convinced me that I need to buy new carpets and rugs and upholstery!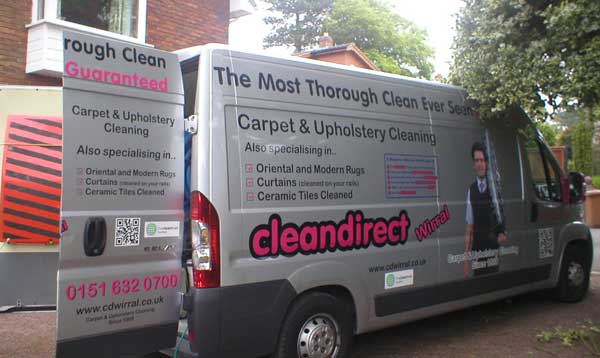 Not so fast! You can get that splendid fresh new feeling by having your carpet/ rug/ upholstery/ curtains professionally deep cleaned. I'm Alistair Goodwin and through combining my thirty years of experience in the field with the latest industry-leading cleaning technology, I can make the colours in your furniture vibrant again, in most cases good-as-new.
Worried about your children or pets?
We employ state of the art Eco Friendly Cleaning: no harmful chemicals, and no sacrifice in results—our industry leading equipment will clean to a higher standard than regular chemical methods.
Neston and Parkgate Carpet Cleaning
With the majority of carpets, the best method for complete cleaning is to use a Vortex High Air Flow system for dry fast deep cleaning; however, certain fabrics demand an alternative cleaning technique.
The company's highly trained technicians are experts in a range of wet and dry cleaning techniques and will undertake a through assessment of each individual piece of furniture's unique characteristics–metrics include: colour fastness, fabric stability and age.
The ideal cleaning solution will be recommended to you with an exact and competitive quote for the work.
Quality service is guaranteed:
-Your carpet cleaning is fully insured.
-If you are in any way unhappy after we have completed the cleaning process we will re-clean the area concerned.
-If, in the highly unlikely event, you remain at all unsatisfied, we will give you a full refund.
Free carpet cleanliness warranty: If you have a small accident during the guarantee period of thirty day– spilling some wine on the carpet for example–we will return to return your carpet to its 'good-as-new' look again. Free of charge.
Rug Cleaning
Just down the Chester Highroad we have a dedicated location for rug cleaning, where we house and employ our specialised equipment to clean all types of rugs: from Persians to handmade rugs.
Proper cleaning will imbue your rug with a new lease of life, furthering your investment.
We appreciate the ancient art of rug-making. Whether your rug was made through braiding, hooking or weaving we will cater to the method by which it was crafted—also taking into account the particular fibres and dyes employed.
Upholstery Cleaning
If you have allergies, it would be wise to have your upholstery properly cleaned: contaminants including pollen, dust and dust mites will be removed.
A deep clean and fabric restore is also an economic way to extend the time you upholstery will spend in the prime of its life.
Our cleaning process, though thorough, is gentle and most furniture will be dry and ready to be used again as soon as possible.
The equipment we use in Neston has a far superior vacuum to most other carpet cleaning companies in this area and therefore your carpets will dry much faster , in fact they usually dry between 1 to 2 hours. Sofas and other quicker upholstery usually dry between four and six hours, depending on the type of fabric used. This is one of the fastest drying times in the industry so you can get back to enjoying your Neston home as soon as possible.